The right solutions for a bathroom suitable for children even in the public places.
For the families with children is not easy to go to public places, like hotels, cottages, B & B, holiday villages, restaurants, bars, roadside restaurants, libraries, kindergartens and petrol stations, that are not equipped the bathrooms, is often an experience for nothing easy that it can be tiring and even frustrating.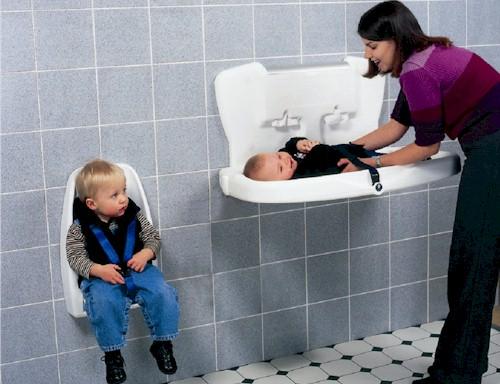 Very often, in fact, they are founding in public places the bathrooms that have inadequate equipment, unhygienic, and sometimes dangerous and unattractive to the eyes of the childrens (which is not a negligible factor).
All this makes the experience of traveling together with the child, more often, very difficult that leads many families to give up to travel with kids making loose customers to the restaurants for example..
Therefore, a right equipment in the bathroom should not be underestimated. Just a simple changing table preferably with a waste bin with lid for diapers used to change completely the toilet for the baby customers.

For sure besides the baby changing table to be installed in the bathrooms, it will be very much appreciated the presence of disinfectant wipes for the baby or even better the presence of a dispenser for the liquid disinfectant to sanitize the surface of the changing table before the use.
The changing table is an important tool, in our opinion, for your restaurant, in fact it will become crucial to attract families with children.